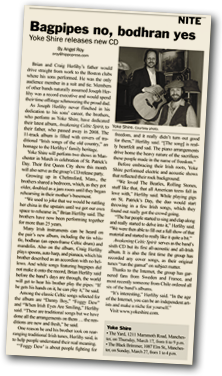 Brian and Craig Herlihy's father would drive straight from work to the Boston clubs where his sons performed. He was the only audience member in a suit and tie. Members of other bands naturally assumed Joseph Herlihy was a record executive and would spend their time offstage schmoozing the proud dad.
As Joseph Herlihy never flinched in his dedication to his sons' career, the brothers, who perform as Yoke Shire, have dedicated their latest album, Awakening Celtic Spirits, to their father, who passed away in 2008. The 11-track album is filled with covers of traditional "Irish songs of the old country", a homage to the Herlihys' family heritage.
Yoke Shire will perform two shows in Manchester in March in celebration of St. Patrick's Day. Their first Queen City show this month will also serve as the group's CD release party.
Growing up in Chelmsford, Mass., the brothers shared a bedroom, which, as they got older, doubled as a jam room until they began rehearsing in their mother's basement.
"We used to joke that we would be rattling her china in the upstairs until we got our own space to rehearse in," Brian Herlihy said. The brothers have now been performing together for more than 25 years.
Many Irish instruments can be heard on the pair's new album, including the tin whistle, bodhran (an open-frame Celtic drum) and mandolin. Also on the album, Craig Herlihy plays spoons, auto harp, and pianica, which his brother described as an accordion with no bellows. And while songs featuring bagpipes did not make it onto the record, Brian Herlihy said before the band's days are through, the world will get to hear his brother play the pipes: "If he gets his hands on it, he can play it," he said.
"These are traditional songs but the renditions are new and fresh"
Among the classic Celtic songs selected for the album are "Danny Boy," "Foggy Dew" and "When Irish Eyes Are Smiling," Herlihy said. "These are traditional songs but we have done all the arrangements on them ... the renditions are new and fresh," he said.
One reason he and his brother took on rearranging traditional Irish tunes, Herlihy said, is to help people understand their real meaning.
"Foggy Dew" is about people fighting for freedom, and it really didn't turn out good for them," Herlihy said. "[The song] is really heartfelt and sad. The piano arrangements drive home the heavy nature of the sacrifices these people made in the name of freedom."
Before embracing their Irish roots, Yoke Shire performed electric and acoustic shows that reflected their rock background.
"We loved The Beatles, Rolling Stones, stuff like that, that all American teens fall in love with," Herlihy said. While playing gigs on St. Patrick's Day, the duo would start throwing in a few Irish songs, which they found out really got the crowd going.
The bar people started to sing and clap along and really started to delve into it," Herlihy said. "We were then able to fill out a full show of that material and started to really like it quite a bit." Awakening Celtic Spirits serves as the band's sixth CD but its first all-acoustic and all-Irish album. It is also the first time the group has recorded any cover songs, as their original tunes "run the gamut" on subject matter. Thanks to the Internet, the group has garnered fans from Sweden and France, and most recently someone from Chile ordered all six of the band's albums.
"It's interesting," Herlihy said. "In the age of the Internet, you can be an independent artist and make a niche for yourself."
"People started to sing and clap along"