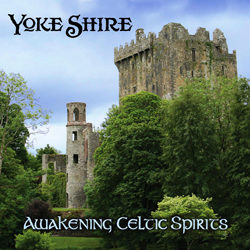 Awakening Celtic Spirits
Released: March 7, 2011
A collection of traditional Irish songs arranged and performed by Yoke Shire with sincere and down to earth authenticity. These enduring compositions are interpreted with gratitude by two Irish-American brothers who were reawakened by their magic.
YOKE SHIRE "AWAKENING CELTIC SPIRITS" AUDIO SAMPLES
SONG TITLE (song length)
MP3 audio
1) Finnegan's Wake (3:32)
2) Maid of the Sweet Brown Knowe (2:50)
3) The Moonshiner (3:26)
4) Rising of the Moon (3:52)
5) Rosin the Beau (3:33)
6) Irish Rover (3:48)
7) Star of the County Down (3:44)
8) Lark in the Morning (3:27)
9) The Foggy Dew (4:04)
10) Danny Boy (3:03)
11) When Irish Eyes are Smiling (3:19)
MAIL ORDER
Send a check in U.S. dollars to:
ZYGO RECORDS
25 Enmore St.
Andover, MA 01810 USA
Price with shipping:
$13 (USA)
$14 (Canada & Mexico)
$17 (International)
Yoke Shire show their diversity on "Awakening Celtic Spirits", their first entirely acoustic CD, embracing a completely new genre as they perform traditional Irish and Celtic folk songs. The Herlihy brothers explore their paternal heritage while taking listeners on a musical journey back to the Emerald Isle. The album is dedicated to their late father, Joseph P. Herlihy, Sr., through whom they trace their Irish ancestry. He always enjoyed hearing his sons perform the songs of the old country.
"These Irish-American brothers can certainly play, enlivening such well-known tunes as 'Irish Rover,' 'Danny Boy' and 'Finnegan's Wake' with a whirlwind of tin whistle, bodhran and dulcimer." - The Boston Herald