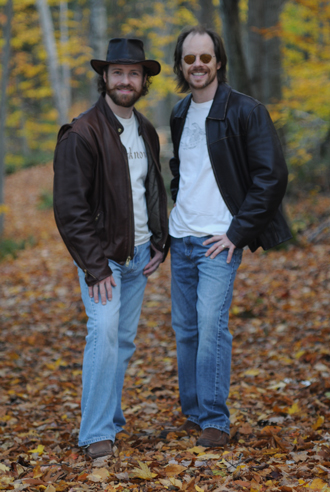 YOKE SHIRE:
Craig Herlihy, Brian Herlihy
A Brief History of Yoke Shire
Yoke Shire is a diverse Boston based rock band that formed in 1993. While touring heavily, they formulated their unique sound by incorporating elements of blues, Celtic, Middle Eastern, and classical music styles around their rock & roll foundation. In reference to the Yoke Shire sound, Buenos Aires based magazine Mellotron declared "Only a few times have we had the chance to hear a band so original and unclassifiable as Yoke Shire. This enormously talented group challenges all kinds of musical styles."
Yoke Shire entered the studio in 1997 and spent 2 years crafting their landmark full length debut album "Masque of Shadows". The album was released in 1999 to great critical acclaim and introduced Yoke Shire to the world. The album was added to over 60 radio stations around the globe, including: USA, Germany, Sweden, Poland, Panama, Canada, Mexico and Estonia! Some stations were even playing the entire album as their featured "Discovery of the Week" & "Album of the Month". "Masque of Shadows" went on to receive awards for "Best Production" and "Best New Artist" from Delire Musical (Quebec, Canada), while Jam Magazine bestowed awards for "Album of the Year", "Best Engineered Album" and "Song of the Year". In praise of "Masque of Shadows", Metronome magazine exclaimed "The most entertaining and innovative music since Pink Floyd hit big with Dark Side of the Moon!"
Having been formed by siblings Craig and Brian Herlihy, Yoke Shire is truly a "Band of Brothers". While the Herlihy brothers often work as a duo, they have also enjoyed working on stage and in the studio with a variety of other musicians over the years. Craig Herlihy is Yoke Shire's dynamic front man, who is a talented multi-instrumentalist, vocalist and songwriter. Among the instruments that Craig plays are guitar, bass, keyboards, blues harp, flute, marimba, mandolin, Theremin, saxophone, drums and percussion. He collaborates on writing Yoke Shire's music and lyrics with brother Brian Herlihy. Brian plays guitar, baritone guitar, percussion and sings harmony vocals.
Yoke Shire performs high energy electric as well as stripped down acoustic rock shows and has continued to tour extensively performing as many as 100 shows a year! Yoke Shire has released several CDs over the years including "A Seer in the Midst" (2002) and the island spiced acoustic based EP "Solar Solstice" (2004). Of their most recent rock release, the double CD "The Witching Hour" (2007), the Boston Herald touted "This might be the best CD released by a Massachusetts band this year."
On St. Patrick's Day 2011, Yoke Shire released an album of traditional Irish music entitled "Awakening Celtic Spirits." The record is the band's first entirely acoustic based album and is a true testament to the music diversity that Yoke Shire has become renowned for.