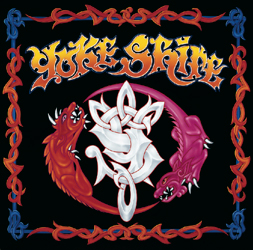 A Foreshadowing
Released: May 14, 1998
The two songs on this CD appear on the full length album "Masque of Shadows." The version of "Maiden Voyage" included on this CD is a special edit of the three songs from that album which make up the "Maiden Voyage" Trilogy: "Maiden Voyage", "The Brook, the Mirror and the Maiden" and "Return Voyage".
YOKE SHIRE "A FORESHADOWING" AUDIO SAMPLES
SONG TITLE (song length)
MP3 audio
1) Maiden Voyage (4:39) [Special Edit]
2) Shape of a Dancer (4:47)
BUY NOW ONLINE
MAIL ORDER
Send a check in U.S. dollars to:
ZYGO RECORDS
25 Enmore St.
Andover, MA 01810 USA
Price with shipping:
$7 (USA)
$8 (Canada & Mexico)
$11 (International)
"A fresh power rock sound" ~ Jam Magazine (Concord, NH)