Live Rock Review: Yoke Shire at The BBC, Manchester, NH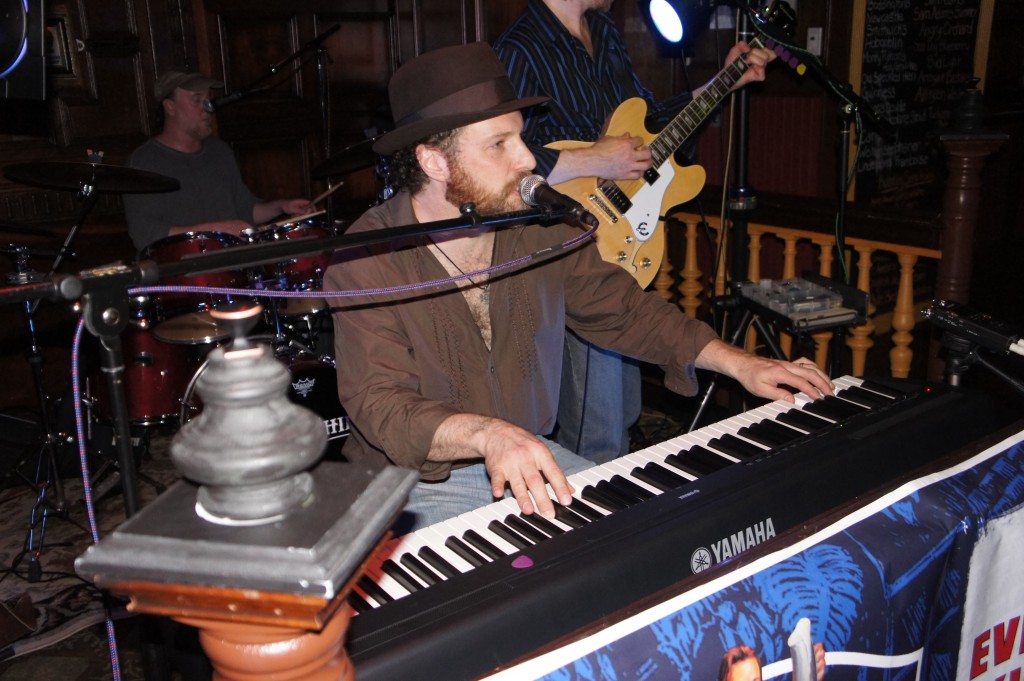 Yoke Shire hit the British Beer Company in Manchester, New Hampshire for a rocking two hour set last night. The trio's show, at first politely received by the crowd, came alive when they played one of their originals in this cover bar setting. Yoke Shire has been through many incarnations. They began as a prog-rock band, released and toured on a Celtic album, and now they're playing out as rock and roll cover band.
Last night's show at the Manchester BBC found the boys staring out with an intriguing piece of instrumental music before segueing into an early Grateful Dead tune then straight into Johnny Cash's "I Walk The Line." Craig Herlihy's handsome low voice, knobby palpable left hand bass notes on the keyboards, and Brian Herlihy's snappy guitar leads, rich with rootsie flavor, made an impression. You could just feel music come alive when these guys played.
Craig Herlihy's voice worked well on Pink Floyd's "Us And Them" for its wide, rangy vocal melody. And Craig Herlihy's keyboard tinkling and Brian Herlihy's guitar picking captured the mood from the Dark Side Of The Moon album. Drummer Brad Dillon made an excellent backing vocalist, echoing all of the sentiment in the lead vocal line. Brian joined in for a third vocal harmony, resulting in sweeter texture. The drumming became very prominent here, snappy smacks in swift succession putting meat on the bones. Roger Waters might have smiled fondly upon the three piece for getting it so right.
The Rolling Stones "Under My Thumb" had it all, the supremely confident vocal, tender, trippy piano notes, and the rhythmic pulse coming from the drums. It motivated a couple to come up and dance in the limited space.
"ZZ Top's "Sharp Dressed Man" chugged down the rails with fluid momentum and unstoppable energy… The boys picked off some badass Texas phrases."
Santana's "Evil Ways" was a nice rendition of the Latin rhythm, Craig Herlihy' take on the swinging meaty keyboard rhythms bordering on hypnotic. Meanwhile, Brian Herlihy's lead guitar notes darted around the groove like crazy, his notes a whirlwind of beautiful rock and roll excess. "Oye Como Va" found Brain Herlihy pressing out some smooth, skim the surface of the groove, leads. You could feel his admiration for the master in the self-discipline he rendered throughout his lead phrases. The three also had a great vocal harmony going on. "Smooth" brought Yoke Shire into an even more rocking territory, as the energy level jumped here. Brian Herlihy pealed off some Santana like lead lines that were full of pluck and zest as Dillon smacked out some hefty drum rolls.
The three cruised through the rollicking Aerosmith classic "Same Old Song And Dance," for which Craig gave up his keyboard for an electric six string. Some bulbous rocking action came out of this bad boys of Boston classic, its shifty sections and jumpy melodies getting a fine workout. The Herlihy brothers don't even need to bring a bass player to their gigs. They both qualify as bass pedal players, and that was how they created most of their low end last night. Additionally, drummer Dillon was playing so hard and aggressive, they didn't need any bass. The resonance from the walloping on the skins filled in plenty of space.
The trio next launched into "Stone Free" with its heavy guitar grooves and perky melodic line. The percolating beat amidst the busy, tricky drumming was another bit of fun. The Herlihy boys got even more fiery during the bridge, bringing this Hendrix tune to glorious life. "Fire" was marked by Craig Herlihy's wide melody line and the brooding rhythm section.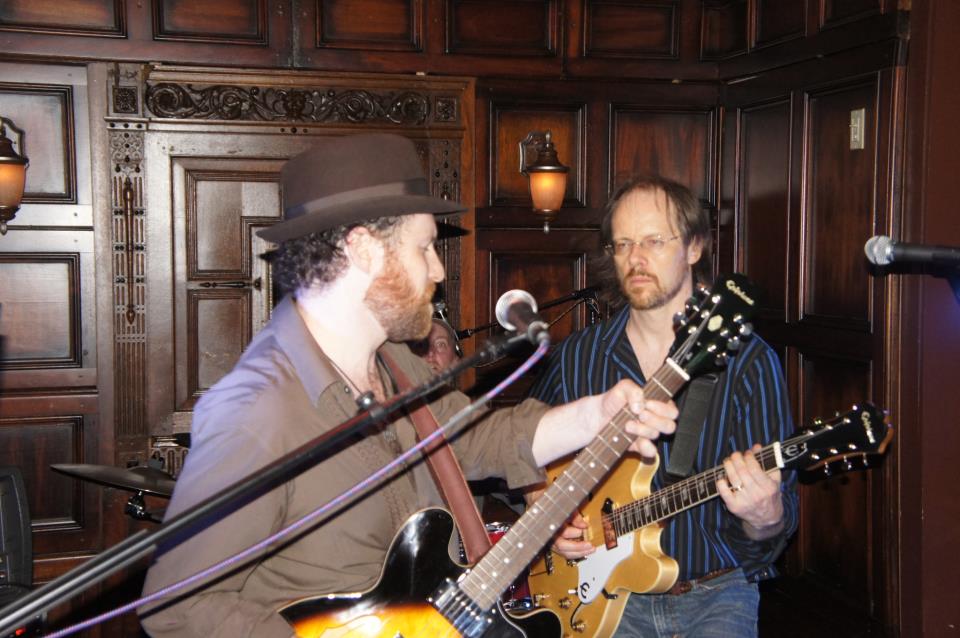 The trio went into their second set with Led Zeppelin's "Over The Hills And Far Away," a rendition that got a rustic kick from the dual electric guitars, resonating, contrasting sharply with each other, meaningfully deep in the intro and on fire near the end. It was a good song to juxtapose with their original "A Myriad Of Moons" from their "Witching Hour" album. The trio became freer and rangier on their own material, with Craig Herlihy's sprightly, spiky keyboard notes, Dillon's driving drums, and just a hint of medieval menace in the verve of their other worldly classic rock sound. Craig Herlihy eventually relinquished his keyboards to play a second electric guitar. The brothers then delivered over the top electric notes that spiraled, danced, trotted, and whatever else the boys felt like making them do.
The crowd gave the trio the strongest response after hearing their own material, and from there you could see and feel the band and the audience throwing energy back and forth at each other. Craig Herlihy widened the sound on The Beatles' "Something" by singing in his smooth, flowing style through the written vocal melody line. With a Beatles' song, the performer only has to be really talented to do it right. Brian Herlihy's chirpy guitar lines were beautifully Harrisonesque, and Dillon's drumming was notably fulsome, rolls quick and tight with the beat. Three part harmonies were another treat for the ears here, the familiar chorus coming to three-dimensional life.
"Stir It Up" was a charming ode to the original reggae classic and AC/DC's "You Shook Me" was another fun tune that got the crowd singing along. ZZ Top's "Sharp Dressed Man" chugged down the rails with fluid momentum and unstoppable energy. You could feel the muscular personality in this song. The guitars were really cool too. The boys picked off some badass Texas phrases. And it certainly didn't hurt when Dillon's drum notes segued the trio straight into The Rolling Stones' staple "Honky Tonk Woman," another rootsie barn burner, seriously rocking without pretension. Craig Herlihy nailed the wily Keef guitar line.
The trio closed out their show with an ode to Motown, playing "My Girl" with a bright, shiny, peppy melodic hook, sweet harmonies, jaunty keyboards, and precise drum smacks. It was a nice closer to two sets of well selected, well played cover songs, Yoke Shire continues to push their own boundaries. Last time this reviewer saw them, they were performing traditional Celtic music for a St. Patrick's Day concert. Last night, they strutted their way through songs that had to be played right for a variety of music fans. When the trio feel like it, they might even record another album of challenging progressive rock music and tour it around larger rooms.
"You could just feel the music come alive when these guys played!"